Certification of new elevators and periodic inspection
Our company in cooperation with the recognized testing and certification body Tuv Hellas lifts undertakes certification of new lifts, and the periodic inspection and certification of old elevators.
D) After completing the installation of a lift from us the certified inspection body shall submit technical inspection safe mode and then releases the original certificate of inspection. Then together with the certificate becomes recommendation technical file and submitted to the relevant local authority and registered in the register of lift. The elevator granted a license and monitoring document.
B) In existing lifts for the renewal of authorization shall conduct periodic audits to identify any deficiencies in the installation. After correction of deficiencies again certificate issued by an authorized body ton and repeat the renewal of the authorization.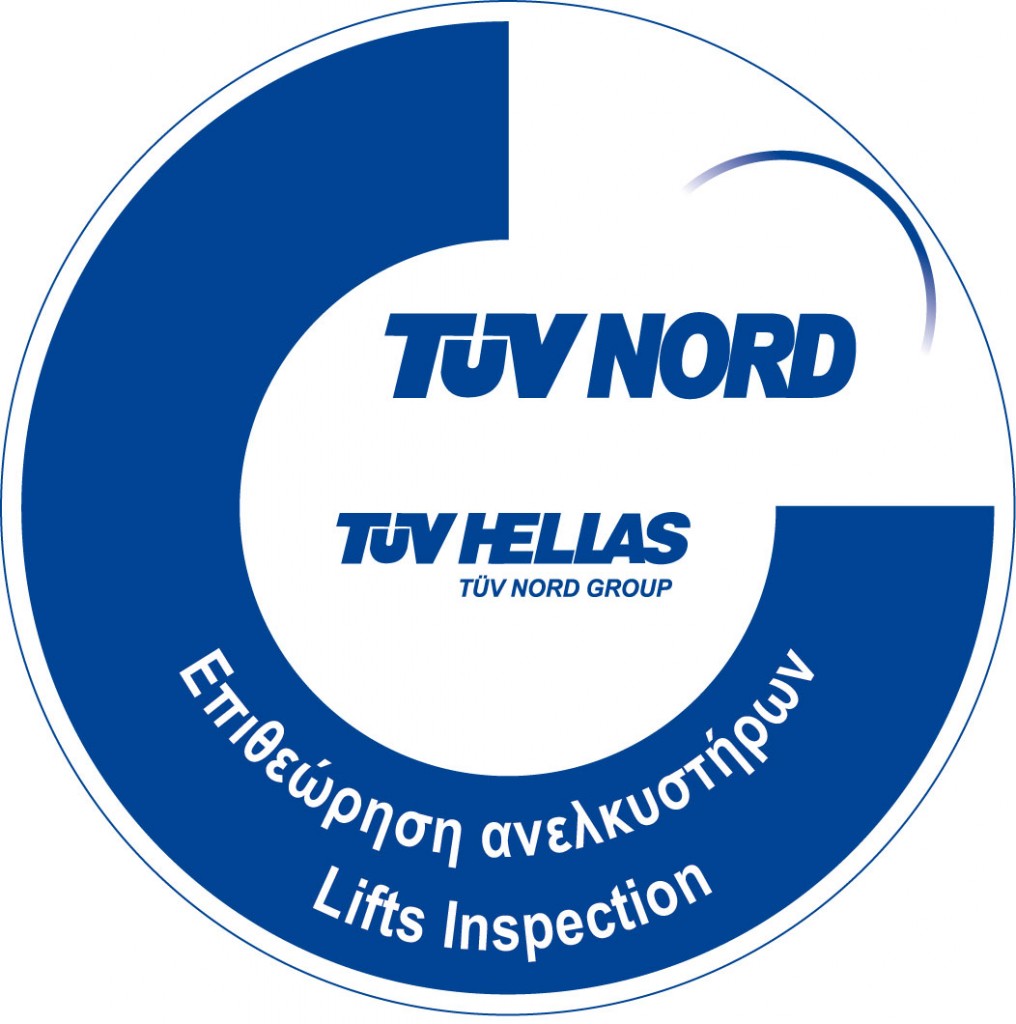 Contact us for the certificate of existence check on your lift.
According to the Ministerial Decree published in the Government Gazette 2604 / B / 22-12-2008 is the official law of the Greek State and all lifts must operate with a certificate in force, omissions of cause severe sanctions, such as a fine or even the closure of the lift.
All lifts are certified, should be re-tested periodically by a Notified Certification Body all 1 until 6 years depending on the use of the building.
Για παλαιούς ανελκυστήρες που δεν έχουν στοιχεία νομιμότητας ή πιστοποιητικό από αναγνωρισμένο φορέα
Owners / managers must entrust and close the control of elevators in buildings in approved inspection bodies according to the following timetable:
| Categories Elevators | DEADLINE |
| --- | --- |
| Existing elevators without legitimacy items (Operating without a license or authorization from installation) | 31/12/2012 |
| Existing lifts fitted in public spaces and generally in buildings that serve the general public | 30/06/2010 |
| Existing elevators authorized or pre-authorization, established above 30 years | 31/12/2010 |
| Existing elevators authorized or pre-authorization, established under 30 years | 31/12/2011 |
Για ανελκυστήρες που έχουν στοιχεία νομιμότητας και έχει εκδοθεί πιστοποιητικό από αναγνωρισμένο φορέα
Owners / Administrators are required to repeat the control of elevators of their buildings by recognized bodies in the following intervals:
USE BUILDING
STOP NUMBER
FREQUENCY / YEARS
House
To 6
6 years
House
More
from 6
5 years
Business use
To 6
4 years
Professional use or
and in hotels until 200 beds
More
from 6
3 years
Elevators located in public places and generally in buildings
serve the public
Whatever
attitudes
1 year